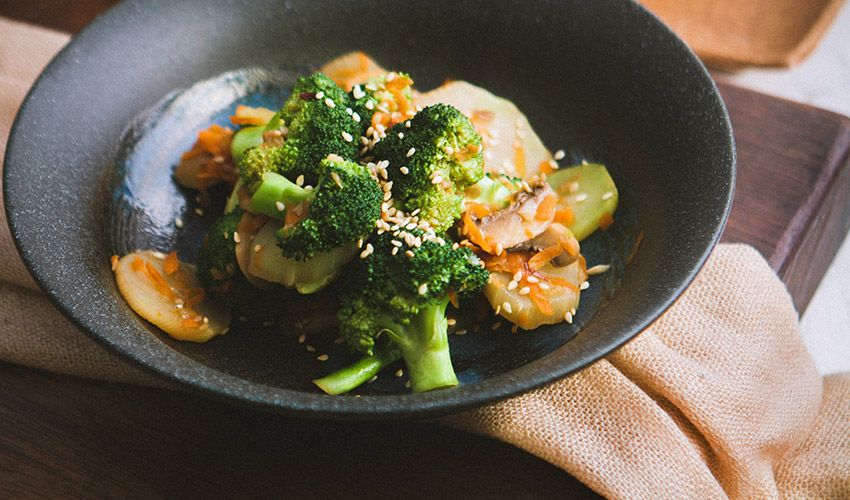 Over the years Islington has welcomed cuisines and cultures from far and wide which has resulted in an abundance of incredible restaurants, pubs and brunch spots lining the bustling pavements of Upper Street all the way out to The Angel, Highbury and Kings Cross. For locals, eating out in Islington is always a toss-up between trying the newest restaurant to pop up (which is more often than not), or returning to an old favourite that never disappoints.
This is equally as true for Islington's vegan and vegetarian population who are well and truly spoilt for choice with the range of plant-based and veggie-friendly establishments on offer. And when it comes to the menus, you'll seldom see a stuffed pepper in sight. Long-gone are the days of measly veggie afterthoughts squeezed at the bottom of otherwise meaty menus, instead Islington's vegan plates are overflowing with delicious combinations bursting with flavour and spice, making this part of north London a go-to hotspot for vegan and vegetarian dining done the right way.
Take a look at some of our favourite vegan and vegetarian restaurants in Islington for all of your breakfast, lunch and dinner needs.
Vegan and vegetarian breakfasts in Islington
EZ & Moss's menu is mouth-wateringly indulgent for all the right reasons. Combining fresh ingredients such as beetroot falafel, rocket and kale salad, avocado and feta cheese which make up just a sample of their savoury vegan and vegetarian dishes, followed by crisp, flaky croissants, lemon drizzle cake and plum crumb squares for those with a sweet tooth, there's no surprise that Islington's veggies and vegans flock to EZ & Moss for their breakfast or brunch fix.
In fact, it's not just those with a plant-based diet who you'll find sipping a coffee here, this is a restaurant loved by all and it's easy to see why. With a regularly changing menu, all-day breakfast and brunch available come the weekend, there's plenty of reason to visit this Holloway Road favourite more than once.
The second addition to The Breakfast Club's ever-growing portfolio, their Angel restaurant is a no-brainer when it comes to starting the day right, vegetarian style. Transporting its guests straight back to the retro bliss that was the 80s (fashion aside), The Breakfast Club puts a fun spin on, not just breakfast but good deeds too. From their award-winning volunteering programme, to charity projects and in-house workshops, this cafe's founders are all about giving back to the community, and that's aside from their delicious breakfasts.
While most would recommend the infamous pancakes here, there are plenty of other dishes not to be looked over by the keen veggie eye – the butternut shakshuka benedict and halloumi club burrito being just two reasons why. There are also a range of fresh smoothies, shakes and juices to choose from too – equally as tasty and packed with veggie goodness.
Vegan and vegetarian lunch spots in Islington
Nestled in Islington's popular Chapel Market, The Little Viet Kitchen is ideally located for hungry vegans and vegetarians craving a steaming hot bowl of pho or a bite of traditional Vietnamese street food. Boasting a restaurant as beautiful as its plates, The Little Viet Kitchen serves vegan and vegetarian options that are packed with a punch. Expect silken tofu glazed with sticky peppercorn or chilli sauces along with lashings of soy and garlic. This is a place for spice-loving taste buds to be transported to the best of Vietnam's sizzling street food stalls – all from one small kitchen in Islington.
Better yet, you can even recreate The Little Viet Kitchen's dishes in the comfort of your own home. In this self-styled collection, founder Thuy Diem Pham has created her own cookbook including over 100 of her most loved recipes and dishes from her childhood in Vietnam, including easy vegan and vegetarian options and substitutions along the way.
Don't let Indian Veg's unassuming shop front put you off before you try this restaurant's 100% vegetarian curries, sides and salads. Indian Veg is renowned in Angel and Islington for its all-you-can-eat dining for a mere £7.95 along with a generous BYOB option. This restaurant's mission is to spread the word about the importance of a plant-based diet, even more so than making huge profits, and this is clear to see from the mosaics of pro-vegetarian news clipping and articles that decorate the walls – which certainly provides food for thought as you tuck into your second and third mound of steaming hot curry and pakoras.
The menu here is all about simple, home cooking packed with the flavours of India, and there are few hours in the day when you won't find a hungry north Londoner frequenting the buffet here, vegetarian or not. If that's not a good review in itself then we don't know what is.
Best vegan and vegetarian dinners in Islington
For the majority of vegans in Islington, The Gate is something of a rite of passage when it comes to treating yourself to an exquisite meal out. The Gate has made a name for itself for all the right reasons, earning itself a spot on the map in not just Islington, but a handful of other London hotspots including Marylebone and Hammersmith.
The vegan and vegetarian menu at The Gate takes plant-based cooking to a level of creativity that amplifies flavours, textures and presentation to a level that makes it nigh on impossible to make a decision. Choose from simple, yet delicious starters such as artichoke terrine, followed by hearty vegetable tagine or spicy tofu red curry. If you're determined to make room for more, finish it off with a peanut butter brownie or mango cheesecake. Peckish yet?
As far as vegetarian restaurants in Islington go, Mildred's is a name that comes up time and time again for its consistently impressive reviews and ever-growing reputation as a must-visit for a vegan or vegetarian dinner with friends and family.
Taking pride in their open kitchen serving organic and locally sourced produce where possible, Mildred's takes inspiration from every corner of the globe. Begin your dining experience with a taste of Japan and order gyoza dumplings with chili bean oil, then hop over to Sri Lanka with a sweet potato coconut curry for main, or keep it British and go for good ol' (parsnip and apple) bangers and mash drizzled with a cider jus. If you've got a sweet tooth, all you need to know is that there's caramel and biscoff cheesecake and gingerbread sticky toffee pudding on the menu. Need we say more?
More of a liquid lunch kind of diner? Take a look at our pick of the best cocktail and wine bars in Islington.
Like the sound of Islington's vegan and vegetarian restaurant scene? Why not get in touch with one of our Islington estate agents to talk about the local area and its available properties.
Looking for plant-based and meat-free options in London? Check out our guides:
Vegan and vegetarian restaurants in Shoreditch