Camden Town gained its name from Charles Pratt, 1st Earl Camden, in the year 1795, and became the bustling part of London it is today following the development of the Grand Union Canal, and the improvement of the area's railway system.
Over the years Camden has been a popular inner-London destination for those interested in the arts, from Charles Dickens in 1822 to, in more recent times, playwright Alan Bennett and singer Amy Winehouse. Although formerly championed for its alternative culture, a wave of gentrification from neighbouring Primrose Hill has pushed up Camden's property prices over the last decade. Camden no longer just attracts young professionals and those involved in the arts and creative industries, but lawyers and media executives seeking a vibrant place to live.
Camden is still famed for its buzzing atmosphere, with too many bars, eateries, edgy art exhibitions and live music venues to mention. Its position on the London Canal Network gained it status as an industrial town, but regeneration has seen areas such as The Camden Lock and Stables Markets being smartened up, creating an expanse of indoor and outdoor stops selling unique clothes, jewellery, bags and food. Camden is now famed for its markets, and visitors travel from far and wide to visit them. The Regent's Canal running through the area is home to a vast number of restaurants, bars, and clubs, as well as providing a towpath for walkers and cyclists. For those that would rather see the area from the water, regular longboat and canal trips run along Regent's Canal from Camden Lock.
As one of the premier estate agents selling properties in the area, Marsh & Parsons prides itself on its local know-how. From the best schools in the area to the finest boutiques bars and restaurants and the cost of a resident's parking permit, agents at Marsh & Parsons have their fingers firmly on the local pulse.
---

Buying in Camden
What will you get for your money?

Charming studio flats in Camden and Primrose Hill start from £300,000, while one-bedroom flats range from £350,000 to £700,000 depending on size and outside space. Two-bedroom conversion prices range from around £500,000, to about £1.5 million for a flat with a garden or roof terrace. You would expect to pay around £800,000 for a two-bedroom maisonette on Delancey Street, for example.
Families looking for terraced houses for sale in Camden can expect to pay from £1.2 million, with beautiful Georgian terraced houses on Albert Street from £2 million upwards. For those demanding supreme luxury living right next to the glorious Regent's Park, imposing mansions can be purchased from around £15 million.
---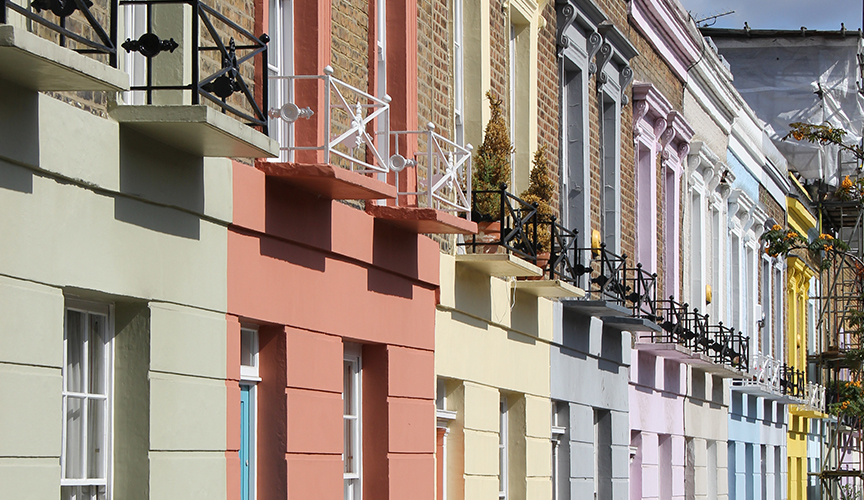 Renting in Camden
What will you get for your money?

Studio flats range from £300-£350pw in the Camden area. For a one-bedroom flat, you can expect to pay between £340-£430pw depending on size and outside space. Prices for two-bedroom properties generally range from around £420 to £800pw if you're looking for a flat with a garden or roof terrace. Larger properties with three bedrooms let anywhere between £550-£1,100pw.
If you are looking for large family space, with stunning views of the glorious Regent's Park, houses with four bedrooms or more can typically be rented for £1,000-£2,000pw. With its proximity to Regent's Park, coupled with a fine selection of boutique shops and cafés, Regent's Park Road proves very popular with families.
---
Discover more
The unique atmosphere of Camden is no longer something that attracts just tourists, but also those seeking a vibrant and diverse place to live. Developing a name for themselves over the years, Camden's music venues and markets are internationally-known. Music venues in the area include the Electric Ballroom, Jazz performances at the Jazz Café or the Blues Kitchen, and the Roundhouse Theatre, a converted locomotive engine roundhouse constructed in 1847 which has seen performances from acts including Pink Floyd and Jimi Hendrix. The presence of the arts is also emanated in the calibre of theatre available, including comedy at the Camden Highlight and a mix of fringe performance at the Etcetera Theatre, and art and photography exhibitions at the Cob Gallery, Proud Camden and Camden Arts Centre.
Camden offers a vibrant nightlife, and a multitude of bars such as BrewDog, Bar Tok, The Proud Galleries in Stables Market, the legendary Dublin Castle on Parkway, and The World's End, all serving beers brewed at Camden's own breweries; Little Brew and Camden Town.
The multicultural diversity of Camden is reflected through the cuisine on offer throughout the area. A variety of culinary traditions can be found on Camden High Street, Parkway, Chalk Farm Road, Bayham Street and throughout the ever-popular markets. The historic Camden Lock Market, Camden Lock Village, Camden Market, Inverness Street Market and the Stables Market are famed for their one-of-a-kind selection of fashion, lifestyle, books, jewellery and antiques.
Removed from the hustle and bustle of the markets, many visitors are drawn to Camden by the presence of the Regent's Canal, and its proximity to Regent's Park; home of the London Zoo. Canal-boat trips, waterbuses and sightseeing narrowboat trips all run along the canal from Camden Lock.
---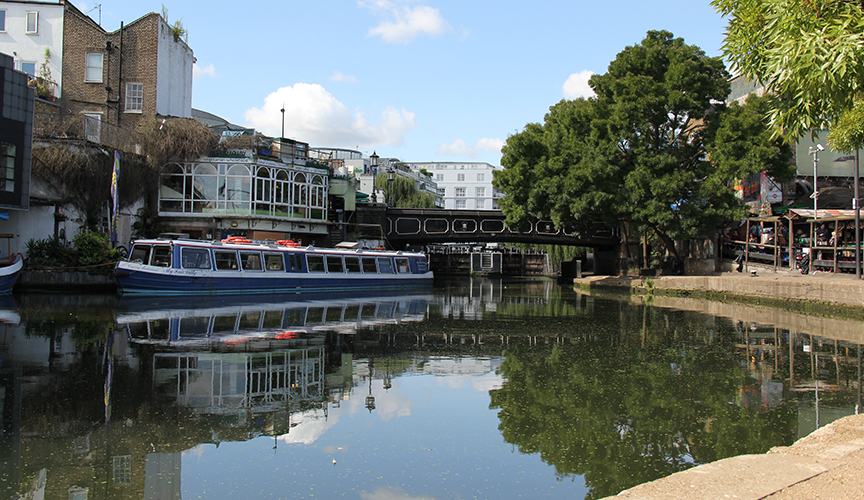 Green spaces in Camden
Although a vibrant commercial area, Camden still benefits from a variety of outdoor spaces, including five parks within the borough that have recently had over £5 million from the Heritage Lottery Fund spent on restoration; Hampstead Cemetery, Russell Square, St George's Gardens, St Pancras Gardens and Waterlow Park. St Martins Gardens and Harrington Square Gardens are two further areas that are within close proximity to Camden Town.
For those enjoying outdoor activities, the towpath along Regent's Canal offers a popular pedestrian and cycle route from Little Venice, through Camden Lock and on to the Islington Tunnel. Additionally, boat trips run towards the 395 acres of Regent's Park which houses the Open Air Theatre, London Zoo, and the beautiful Primrose Hill.
---

Camden transport links
The area of Camden is served by its own Camden Town Tube station (Northern line), as well as nearby Camden Road (Overground), Chalk Farm (Northern line) and Mornington Crescent (Northern line). Camden also benefits from the fact that Euston Terminal, Kings Cross St Pancras and St Pancras International are both within 20 minutes' walk of Camden Town; the Eurostar can be caught from St Pancras International.