If you're considering becoming a landlord, you've come to the right place. We've been letting and managing property in London for over 160 years. So when you choose Marsh & Parsons, you're benefiting from unrivalled expertise and knowledge from one of London's leading agents – but that's not all that differentiates us.
Letting your property
Becoming a landlord for the first time is a big step to make in the property world – and whilst there are many things to consider, the better your agent at guiding you through the overall letting process, the smoother and more successful your new venture will be.
The first place to start is by getting a rental valuation. Most agents profess expert London knowledge – it's how they guarantee an accurate valuation. The thing is, we've been doing this since 1856, so it's safe to say we know a thing or two about the London housing market. Pair this with our proven valuation method and the result is a fair, achievable rental assessment delivered within 24 hours of us visiting your property.
One of the biggest concerns for most first-time landlords is the quality of tenant – after all, you're handing the reins over and want your property kept just as you have and would. This is where we are in a league of our own.
We have a database of thousands of qualified tenants, powered by a unique matching service that goes way beyond generic name and occupancy details. With over 33 steps taken to ensure a tenant is qualified, we guarantee quality – put simply, if we wouldn't let someone rent a property of our own, we wouldn't allow them to rent yours. And if that wasn't enough to convince you, our average contract term is 28 months – testament to the quality of our landlord / tenant relationships.
Our average contract term is 28 months – testament to the quality of our landlord / tenant relationships…

Property management
We're experts in managing rental properties so you don't have to be – at least not right away.
Our experienced lettings managers will provide you with advice on how to achieve the best rental price, ensure you understand the obligations that apply to you as a landlord, and guarantee that everything runs smoothly when you rent your property out for the first time.
For some, property management is part of the fun of becoming a landlord – so whether you're looking to get stuck in or would prefer to have a more relaxed, hands-off approach, we have a property management service for you.
Choose from a straightforward lettings service, a managed lettings service or a premium managed service, which include the following:
Tenant verification and referencing
Organisation of Gas Safety Certificates
Dedicated and experienced property manager
24-hour emergency line
Property inspections
Find out more about our property management services here.
Corporate tenants
We boast one of the largest Corporate and Relocation Services department in London. As a result, we have a pool of quality, professional tenants from a multitude of respected international corporations, including Google, Microsoft and Amazon. The result is Marsh & Parsons placing over 5,000 of these employees in London homes each year – a stat we're very proud of.
Our brand campaigns say it all – we really do match people and property. So when you request a valuation with us, you can feel safe in the knowledge that we'll have a number of high-quality residential and corporate tenants that match you, your property and your commercial requirements. We can't say much more than that.
"Advice from Marsh & Parsons ended up getting me an above asking price offer, great tenants and everything I asked for."
– Victoria, Sydney
Landlord Fees
We offer a number of lettings services depending on your requirements.
We don't want you to have any unwelcome surprises when it comes to choosing the right service for you, so here's an overview of some of the costs you can expect to pay along with what is included in each of our tenancy and property management services: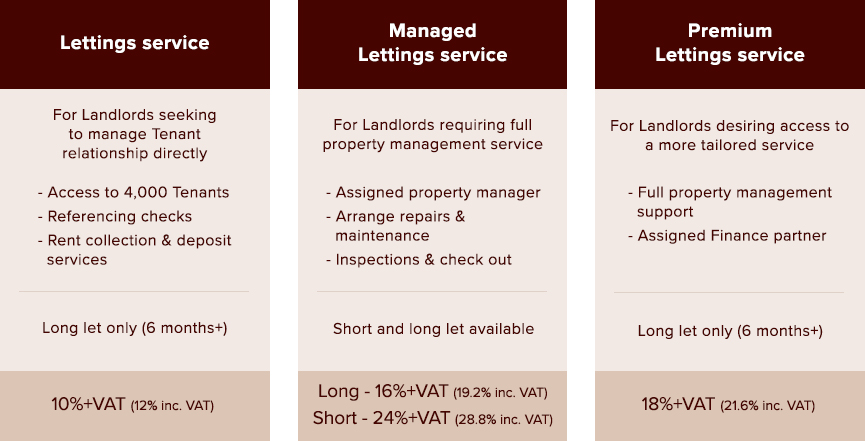 Further detail on what is included as part of these property management services can be found on our property management page.