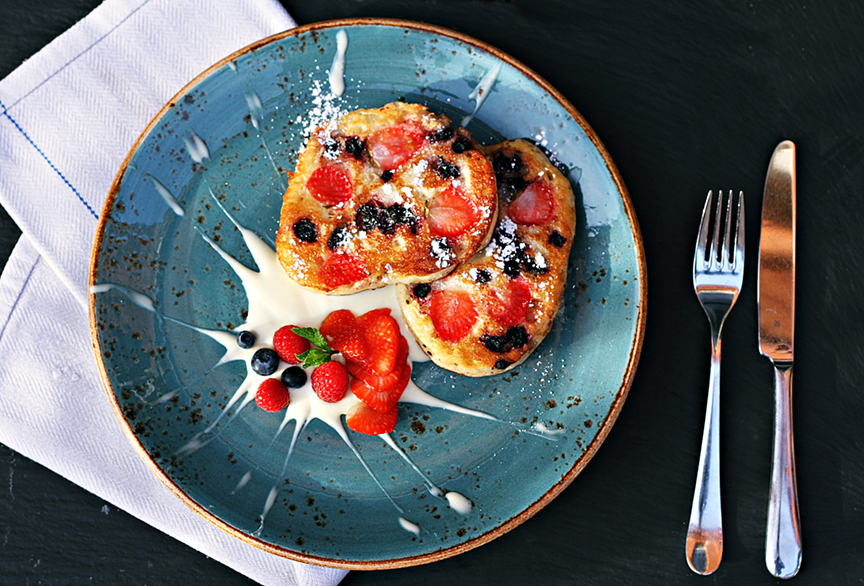 If you like your brunches bottomless and boozy, Clapham is the place to be. Here you'll find a diverse range of cuisines, and some of the best brunch spots in the big smoke. Settle down for a plate of Eggs Benedict, breakfast kebabs, or even fried chicken and waffles, accompanied by free-flowing classic cocktails or prosecco. This is what a lazy weekend in London is all about.
In recent years, the Clapham area has become a real neighbourhood hotspot. This is thanks, in no small part, to Clapham Common: a huge 220 acre area of open green space with playgrounds, ponds and a historical bandstand, as well as excellent transport links to all parts of London and beyond. Cafe culture has naturally blossomed here, bringing with it some fantastic options for the weekend bruncher to explore.
We've narrowed down our favourite bottomless brunch spots in Clapham to help you get started.
Clapham Junction
BabaBoom
For a fresh take on kebabs that's guaranteed to knock your socks off, stop by BabaBoom near Clapham Junction for a 'Power Hour' of bottomless mimosas or frozen margaritas. For food, we love the 'Good Morning veggie kebab', with fried halloumi, tomato, chermoula aubergine, fried eggs and avocado tahini. Or, if a sweet brunch is more your thing, they've got cinnamon french toast with Nutella, caramelised banana, clotted cream and honeycomb. Yum.
You've got to stick to the drink you pick first and after 3pm it's only frozen margaritas on the menu, so get in early if mimosas are your favourite. They've got vegan options here, but if you're looking for a totally vegan establishment, you'll be able to find something you love in our list of our favourite vegan restaurants in Clapham.
Cost: £15 added to the cost of your main meal for the full hour of bottomless drinks.
If you want to go right from day to night, BabaBoom's not far from the fun and creative cocktail menu of Clapham Junction's Adventure Bar. These little hole-in-the-wall style bars are fast becoming a staple of London nightlife, with a reputation for surprising (sometimes flaming) drinks and a buzzing atmosphere. If you're looking for more boozy inspiration, check Clapham's cocktail bars.
The Candlemaker
If you're looking for a livelier bottomless brunch in Clapham Junction, try The Candlemaker. To give it its full title, this is the Steamy Bingo Bottomless Brunch with the Tina Turner Tea Lady. Possibly not the best idea for anyone looking to cure a hangover with some peace and quiet, but a lot of fun if your weekend is just getting started.
This bottomless brunch is all about atmosphere, winning bingo and having a good time – so the food isn't the main event. Even so, Planet Patty in the kitchen have got you covered, with a plate of Eggs Florentine or a sausage and egg bruschetta to accompany your bottomless Bloody Mary or Mimosa.
Cost: £25 for your meal, drinks and bingo (wise to book in advance)
The Candlemaker is a cosy pub as well as a brunch-and-bingo hall, so curl up here for the rest of your Saturday, or if the night is young, head over the road to local Wetherspoons pub The Asparagus.
Clapham Old Town
 Megan's
Ever had a Turkish Cheese Fondue for brunch? Trust us, you need this in your life. For a well-renowned and thoroughly decadent bottomless brunch under a sky of fairy lights, get down to Megan's. Here you'll find some of the best Eggs Benedict in London, washed down with 90 minutes of limitless Pimm's, Prosecco or 'Bloody Megan's'.
Cost: £19 per person, added to the cost of your food, between 2pm till 6pm with last entry at 4.30pm.
If you're looking for somewhere to keep drinking after brunch, pop over to No.32 The Old Town. With one of the best roof terraces in Clapham, and an open fireplace in the main pub, this is the perfect place to while away the afternoon with a cocktail or a pint.
The Jam Tree
This cosy little restaurant is a real gem, offering one of the best value for money bottomless brunches on our hitlist. The Jam Tree boasts a diverse brunch menu that ranges from fried chicken and waffles to a full vegan breakfast. You'll be spoilt for choice for what to have with your unlimited Pimm's, prosecco or Bloody Marys.
Cost: £30 per person for two hours, including your food.
From here, it's a tipsy hop, skip and a jump to The Rectory, where you can catch up with the rugby or transition smoothly straight from Sunday Brunch to Sunday Roast…
Clapham North
Mommi
For something really different, head to Mommi in Clapham North. This is the only bottomless brunch on our list that comes with dessert, as well as an alternative set menu that is entirely vegan. The food here has a well-earned reputation for being really imaginative and interesting: an entirely gluten-free fusion of Peruvian and Japanese cuisines. This would be the perfect way to follow an early morning yoga class in Clapham, relaxing with friends and guilt-free food.
Cost: £33.90 per person, for everything including unlimited prosecco, your main dish, some nibbles and desert. You get 90 minutes 'bottomlessness', and the whole table has to participate.
Mommi prides itself on being more than just a restaurant, with an exciting events program bubbling in the background of their delicious and very Instagrammable menu – check out their 'What's on' page for everything from gin masterclasses to pop discos for your Saturday night.
The Clapham North
Try The Clapham North's bottomless brunch for a classic and well-loved menu. Tuck into a full English, avocado toast or Eggs Hollandaise, with an hour and a half of bottomless prosecco, Bellinis, Bloody Marys or Aperol Spritz. If you like a pooch with your brunch, The Clapham North is a dog friendly pub, so you can bring along any furry friends you like too.
Cost: £16 on top of the cost of your meal.
For those ready for another drink and possibly a dance, high octane cocktail bar Aquum is just down the road. Or, if you're happy where you are, The Clapham North have a live DJ every Saturday night until 3am.
Clapham South
The Perky Nel
The Perky Nel is right on the doorstep of Clapham Common. Stop by for a cosy indoor or even outdoor seating set up. They've got fire pits, blankets and heaters to keep you comfy in the fresh air, even during the colder winter months!
With bottomless brunch running from 10am – 3pm, make sure you get in (or book a table) in plenty of time. Choose from prosecco, Bellinis, Bloody Mary's or Aperol Spritz to go with your meal. Note, your whole table has to participate in the bottomless brunch deal.
Cost: £16 on top of the cost of your meal, for 90 minutes of bottomless booze.
For another watering hole to carry on your festivities, try The Avalon, which hosts its own gorgeous outside space, perfect for lounging after a long brunch.
The Abbeville
Renowned locally as a real find, The Abbeville might just be the answer to your Saturday brunching prayers. For two hours of unlimited prosecco or Bloody Marys to go with your main meal, this is a classic crowd-pleasing British brunch menu. If you find yourself full up and in need of a calorie-burning workout to round off your weekend, there are loads of local gyms to choose from in the Clapham area.
Cost: £15 per person, on top of the cost of your meal. Available from 10am till 5pm.
For somewhere to retire to after your meal try The Rookery for a glass of craft beer or wine overlooking Clapham Common.
For more tips, as well as insight into the types of properties available in the area, get in touch with our Clapham estate agents today.