Welcome to our What Matters guides, a series exploring what makes London the city it is today. Alongside interviews with well-loved local businesses, we've got guides to the best independents and articles exploring just how much history and heritage can be packed into one street. Today, we've decided to take a trip down the King's Road, scene of some of the most important movements in 1960s and 70s youth culture.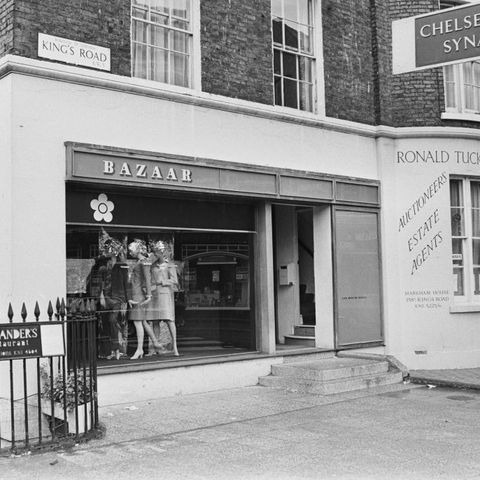 The Kings Road has a longstanding reputation as one of London's premium shopping destinations – but where did this status come from in the first place? We've put together a walking tour which transforms the Kings Road from the high-end destination it is today back its heydays as one of the epicentres for British fashion, music and culture, from the swinging 60s to the punk scene of the 70s and beyond.
Let's begin at Sloane Square station, a name now ubiquitous with Sloane Rangers; young, wealthier groups of young people who flocked to the Kings Road in the 1980s. Princess Diana's style encapsulated the Sloane look; you only need to consider the prevalence of Gucci shoes, Hermes scarves and shoulder pads to see that it still heavily influences fashion today.
Start to walk up the Kings Road and you'll soon come to the Duke of York Square on your left. Originally used as the Duke of York's headquarters, and once the stage of a The Who gig, it now offers modern-day fashion, beauty and food. The Kings Road has a longstanding reputation as a shopping destination, and you can still get your fix at small, hand-picked luxury boutiques. If you're feeling peckish, we like Partridges Café, which holds exhibitions featuring local artists once a month, or the fine food market offers the best in high-end street food.
Carry on walking and you'll soon hit 49 Kings Road. Now home to a McDonald's, the building used to house the iconic Chelsea Drugstore. Opening in 1968, the drugstore was more of an American-style mall offering music, dancing, food, drink, clothes and a chemist within a statement-making chrome building which drew the ire of local residents. Open for sixteen hours a day, at one point it offered a 'flying squad' delivery service, where young women in bright purple catsuits delivered purchased goods to consumers' homes by motorcycle. Despite being one of the most fashionable destinations on the Kings Road, it lasted just three years before locals managed to get it closed down in 1971; though not before being immortalised in The Rolling Stones' 'You can't always get what you want', The Kinks's 'Did ya' and in the Musik Bootick scene in Kubrick's 'A Clockwork Orange'.
A little further up and on the right is 128 Kings Road, which used to be home to Fantasie: one of the first espresso bars in London. Owned by an ex-solicitor, Archie McNair, above it was a photography studio used by Antony Armstrong-Jones, husband of Princess Margaret. Fantasie was frequented by 'The Chelsea Set', a fashionable, eclectic group of people in the arts and socialites, and where Mary Quant, Alexander Plunket-Greene and McNair planned the opening of the Bazaar boutique, where the daring miniskirts and tights sold became synonymous with the renaissance of the swinging 60s. Perhaps fittingly, today number 128 is occupied by Italian fashion brand Calzedonia, where you can grab your own pair of brightly coloured or patterned tights for a modern 60s look.
The most influential and iconic designer of the 60s, Mary Quant created a radically different fashion experience for women which did away with the stiffness and formality of previous years, instead championing a sense of ease and fun. Her boutique Bazaar, where innovative looks inspired by the Chelsea Set and Mods were sold against a backdrop of music, free drinks and later opening hours, opened in 1955 just around the corner from Fantasie at 138a Kings Road. It was an instant success, so much so that Quant was able to open a second location just two years later. Today, you can take a quick break and grab a smoothie at number 138a, as it houses a Joe & the Juice.
Next door at number 138, nowadays a branch of Santander, was The Markham Arms, where Soviet double agents Kim Philby and Anthony Blunt allegedly re-established contact after a three-year hiatus following fellow spies Donald Maclean's and Guy Burgess's flight to the Soviet Union 1951. Later on in the 1970s The Markham Arms was a well-known spot for the local LGBTQ community to meet, along with Gateways Club further up at number 239.
Head on further up towards World's End and you'll come to number 430, where then-primary school teacher Vivienne Westwood and art school dropout Malcom McLaren opened Let It Rock in 1971, which was reincarnated as the provocative SEX in 1974. Westwood and McLaren's work shaped the UKs 1970s punk and new wave scene and the shop itself became synonymous with social and economic rebellion, staffed by icons such as Jordan and future Sex Pistols bassist Glen Matlock. Westwood devotees still have a chance to experience the shop today; now called Worlds End, punks young and old can purchase archive pieces along with newer Westwood designs.
At number 484 is the old home of Swan Song Records, Led Zepplin's record label. Launched in 1974, the label became a home for musicians who had already developed a sense of who they were as an artist and wanted independence from more traditionally controlling record labels. Swan Song Records worked with bands such as The Pretty Things and Bad Company, and early demos from Iron Maiden, Heart and Q-Tips were found when the offices were cleared out in 1983.
This end of the Kings Road has further musical pedigree. Number 500, which now houses a Paddy Power, used to be the site of The Whetherby Arms, an early hunt of the Rolling Stones and the setting for Bill Wyman's audition for the band. The band themselves shared a famously filthy flat on Edith Grove, which had two bedrooms and no bathroom- though their success meant some of the band eventually graduated to Cheyne Walk, one of Chelsea's most prestigious riverside streets.
Enjoyed this article? We've got plenty more in the What Matters blog series to come: next up is our guide to Columbia Road.