On Friday 23rd October, 45 Marsh & Parsons employees took part in the Streets of London Sleep-Out At Home.
Streets of London works with homeless charities across London to offer a support network to those who feel they have lost their place in society. Their aim is to work closely with individuals on a long-term basis to help them rediscover their value and reintegrate themselves into working life.
The Sleep-Out is the biggest event in the Streets of London calendar and is the most significant contribution to their annual fundraising target. COVID-19 prevented the charity from running the event in its usual format, so it needed to be adapted to comply with the COVID-19 protocols in place across London. To ensure that everyone could take part safely, participants were encouraged to sleep outside in their gardens, if they had one, or on their living room floor.
Across the business, Marsh & Parsons employees campaigned tirelessly to raise awareness and funds for Streets of London in the run-up to the event. In addition to many generous donations, the teams were encouraged to share stories of those people who had fallen on hard times and found themselves sleeping rough. Dorothee, Phillip, Elayne and Bill all suffered major crises and demonstrate that there are variety of factors that lead to homelessness. The breakdown of a relationship, a decline in mental health, being made redundant or even a complete lack of confidence can overwhelm vulnerable people.
Although we could not begin to understand the fear and loneliness that a homeless person suffers every night that they sleep rough in the city, M&P employees participated in the sleep-out as an act of solidarity with those who do not have the luxury of a warm bed or a roof over their head.
Jemma, Lettings Negotiator in North Kensington and Michelle, from the Little Venice lettings team, put on plenty of layers and headed out with their sleeping bags to spend the night on their respective balconies in West London.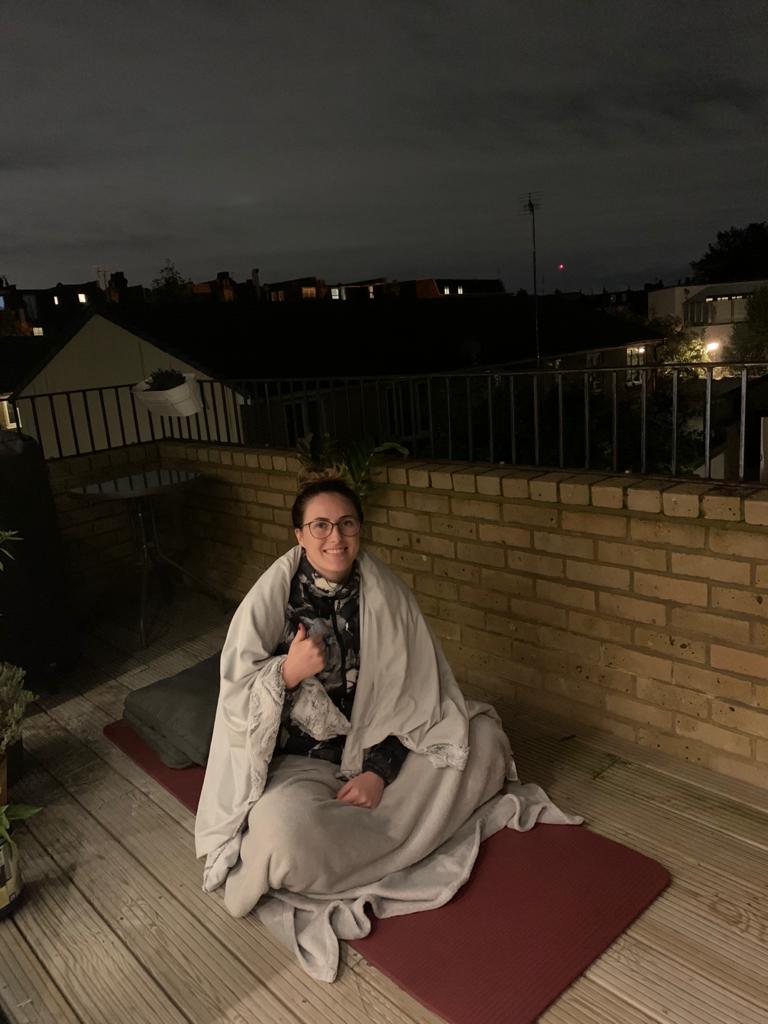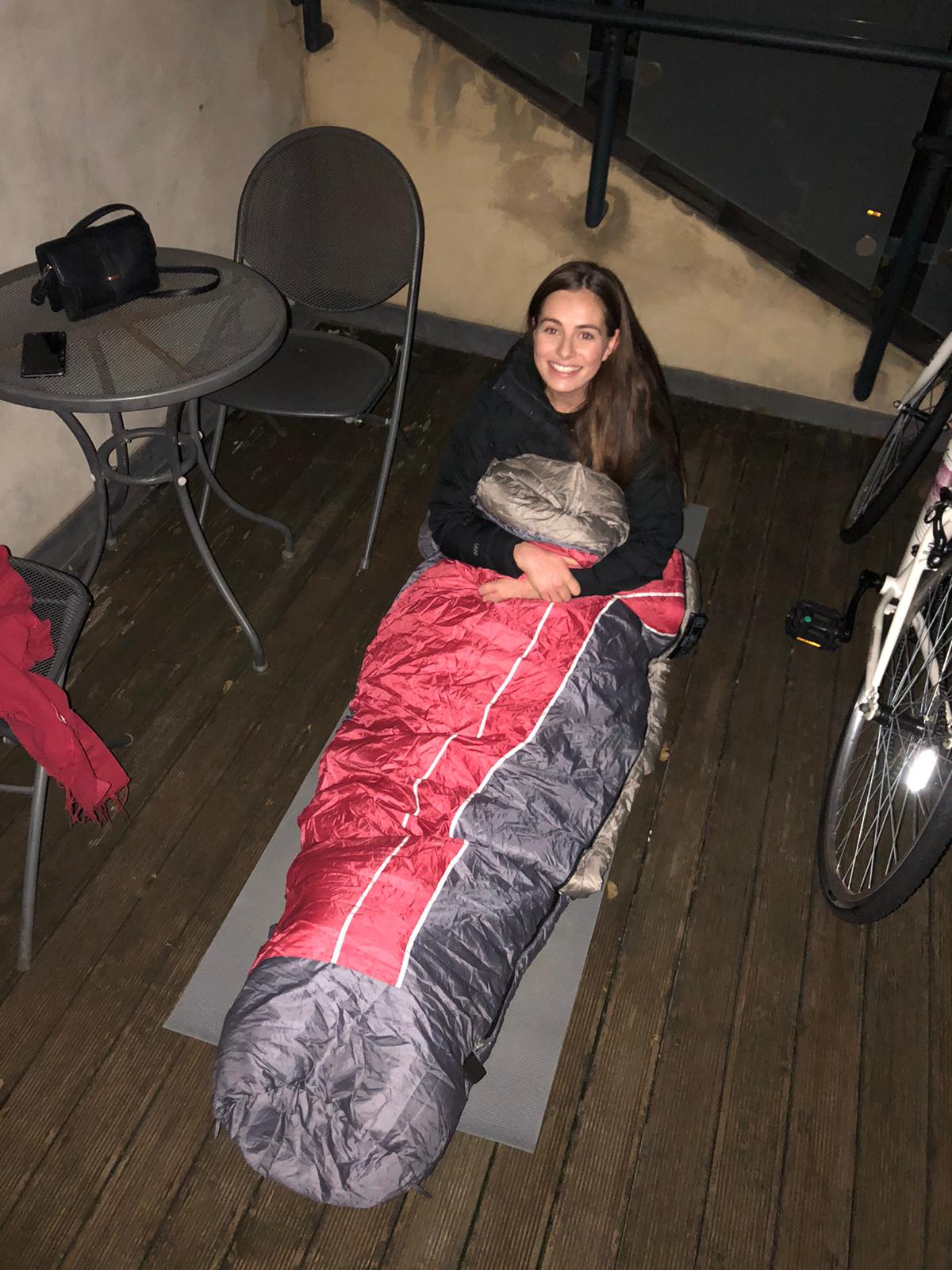 In Shepherd's Bush it was a family affair as Georgie, our Senior Lettings Manager in Kensington, roped in her parents to join her for a sleep-out in the garden. She explained that "It was tough to do just one night so I can't imagine having to spend every night sleeping outside."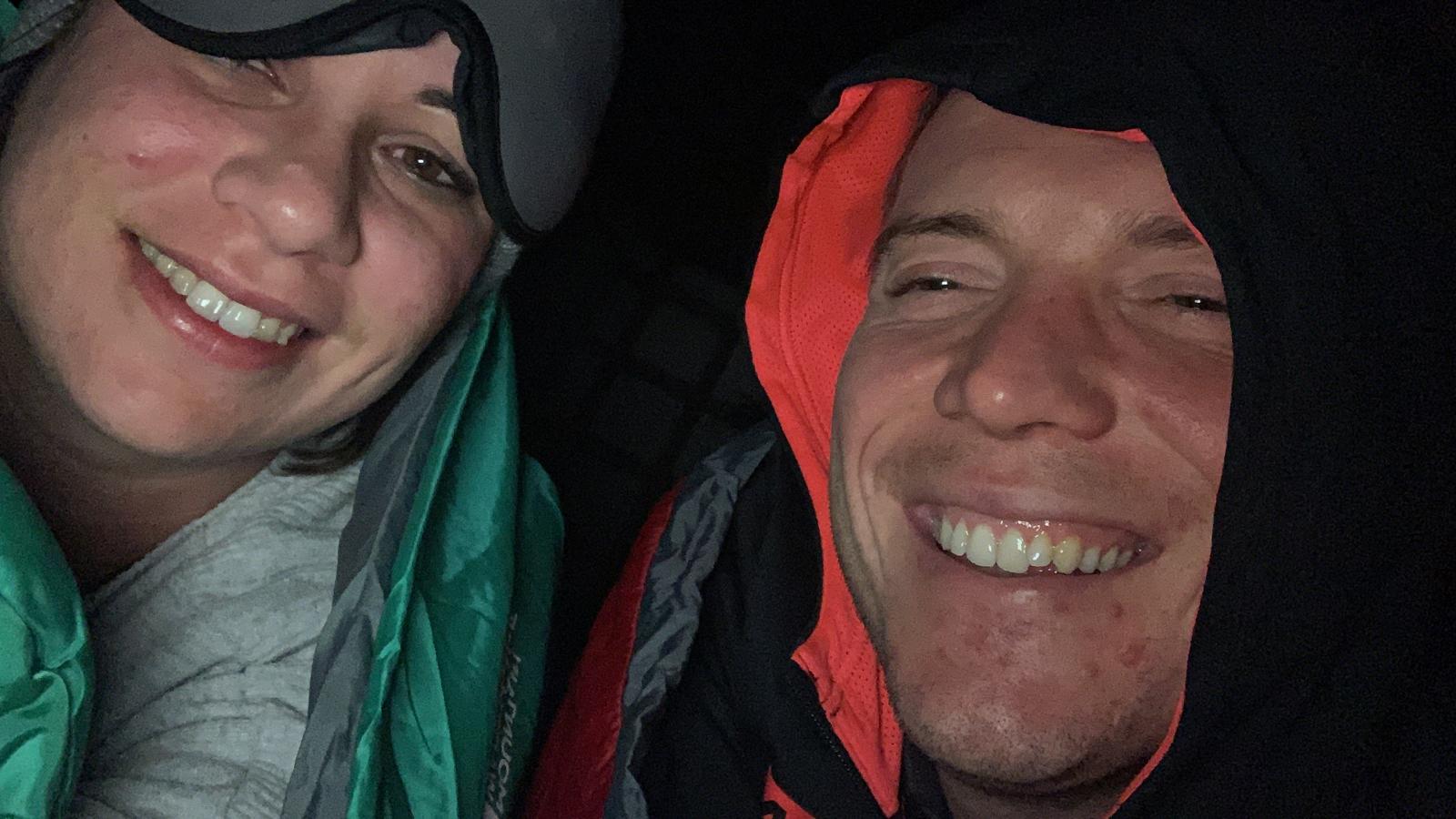 Albert (Holland Park Sales) and Callum, one of our sales negotiators in Brook Green, huddled together for warmth in their garden in Fulham. Christos, our Notting Hill Lettings Valuer and Area Director, Georgie enlisted the help of their furry friends to keep them warm as they bedded down for the night.
Some took the time to prepare their temporary shelters for the evening. Ed, from our South Kensington office, and Max, our Sales Negotiator in Balham, precariously balanced umbrellas over their heads to shelter from the rain. Not to be outdone, Harry (Clapham Lettings) built a fort from vegetable crates to protect himself from the elements.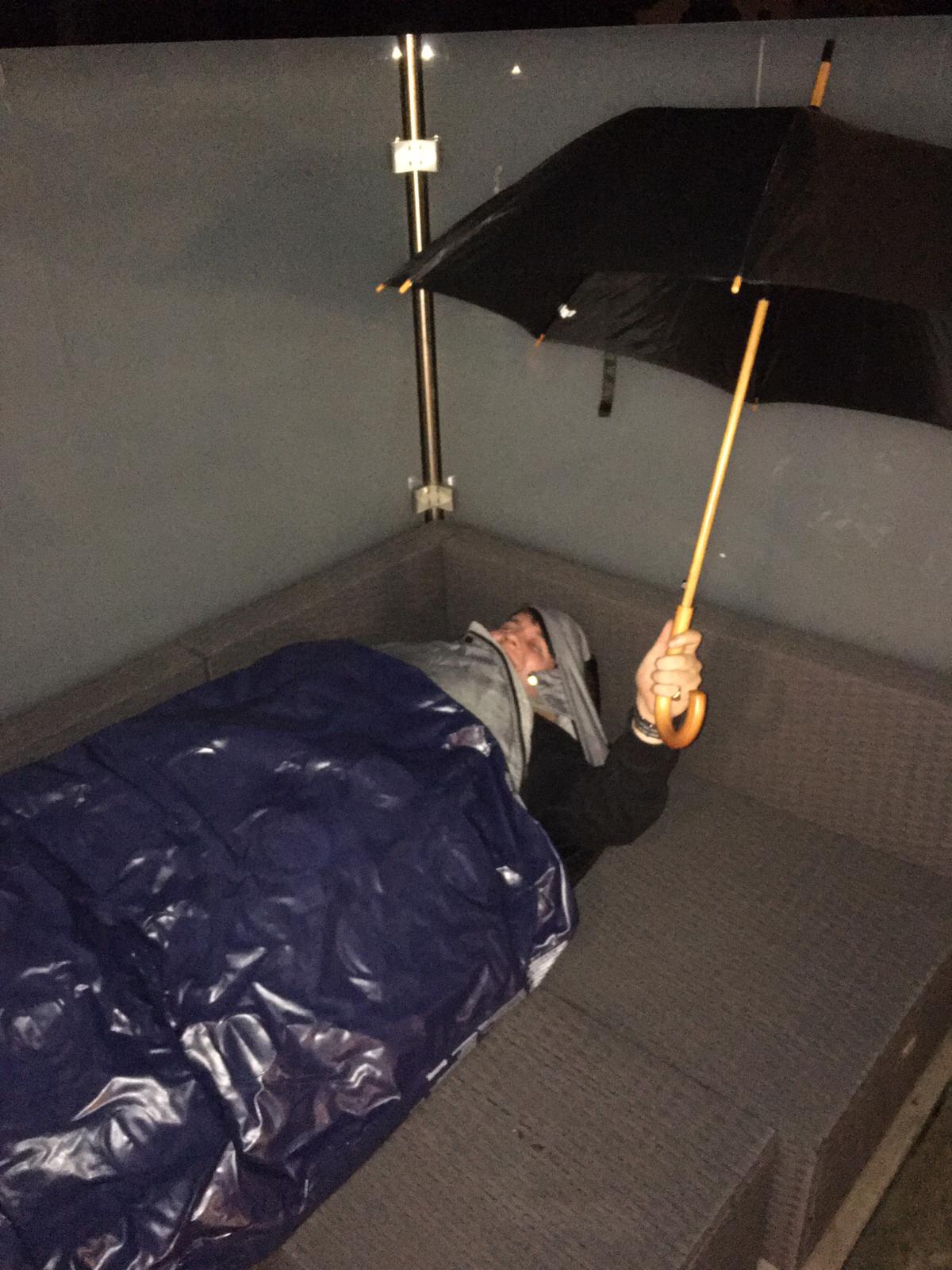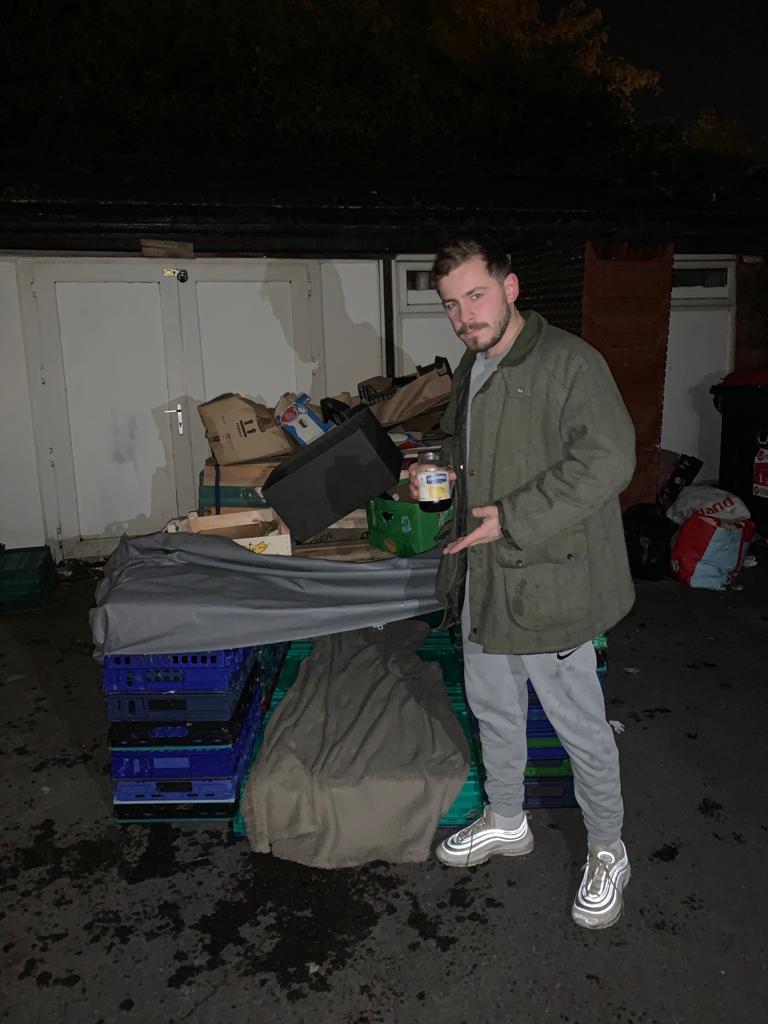 Joining the agents from across the office network, representatives from Head Office also got involved. Amy and Alex from Marketing took part in the sleep-out from their homes in Kilburn and Bhavin, from Finance, enlisted the help of his daughter to build a fort in their living room.
Property & Tenancy Management came out in force too after collectively raising over £3,000. Josh settled in for the night in his garden, Leena pitched her tent in New Malden, and Freya set up her hammock on the balcony of her home in Hillingdon.
Director, James Leverton, sheltered under tarpaulin for a night of sleeping out in his garden. He reflected on his experience saying, "It was a long and surreal night, I found it impossible to get comfortable on my layered sheets of cardboard. Waking frequently, I seemed to take hours to get back to sleep, lying there listening to night buses and the drone of distant traffic. I now understand why many homeless people seem to sleep on into the morning – they must be eternally sleep deprived. I can only imagine the accumulative effect of that."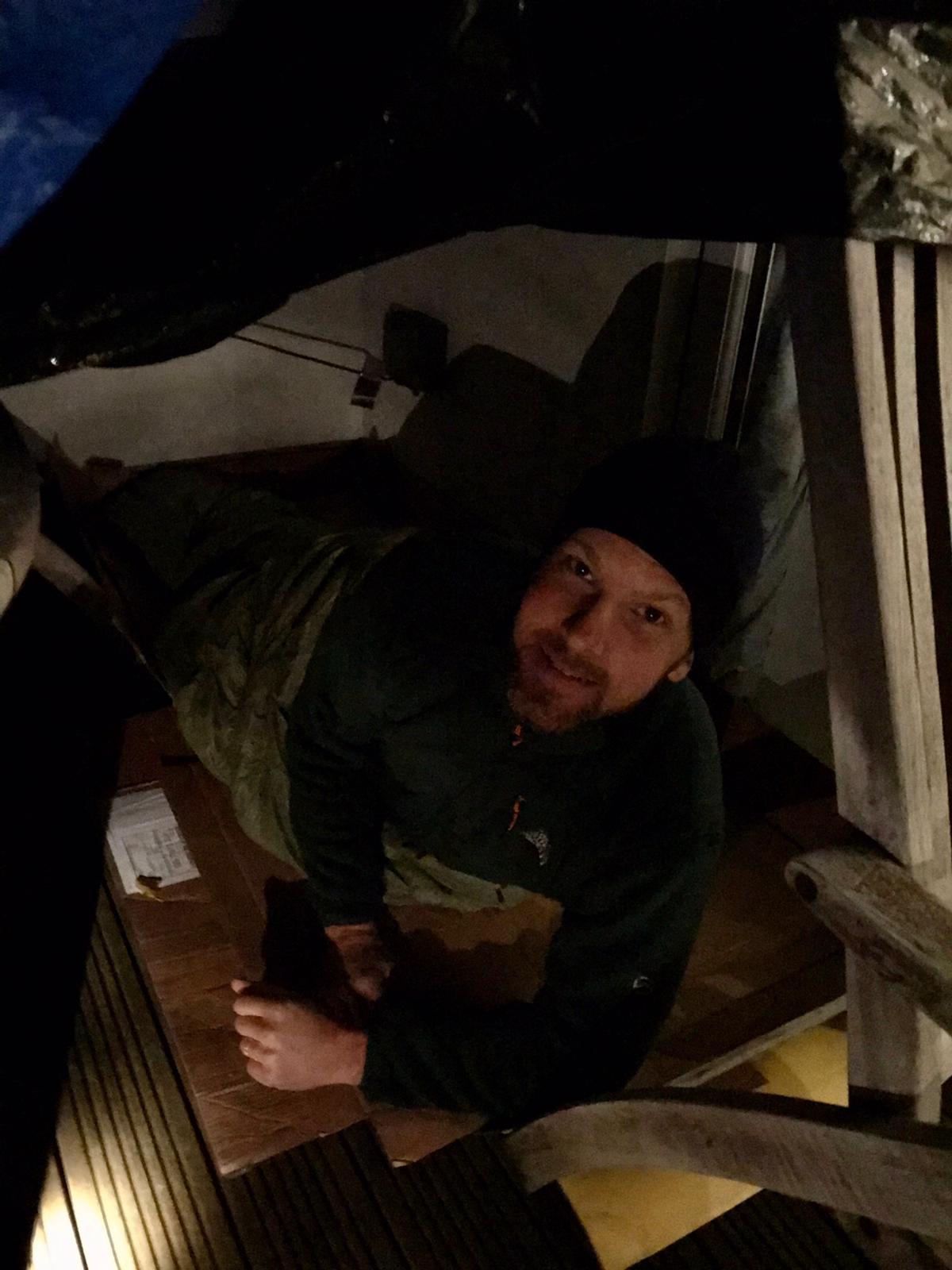 James was not the only participant from our board of directors. Our CEO, Patrick Littlemore, set up sheets of cardboard and nestled in his sleeping bag for a cold, damp night's sleep in Askew Road.
He said "I don't think I'd appreciated that taking part in the sleep-out would raise my awareness of some of the more obvious challenges people face every single day. Whilst the sleep-out is a sanitised and safe situation, what came across was the toll even the most basic elements would take on someone's mental health from sleeping rough night after night. London at night is incredibly light and noisy, facing this every evening simply doesn't allow anyone the chance to rest."
Although the participants were exhausted and cold from the challenge, an uncomfortable night's sleep was all made worthwhile when we counted our final fundraising total. Our target for the event was £5,000 but we are delighted to announce that we far exceeded expectations raising a total of £13,286.49 for Streets of London.
This is the first of our fundraising events for Streets of London. Do follow our social media pages to look out for updates on future events.