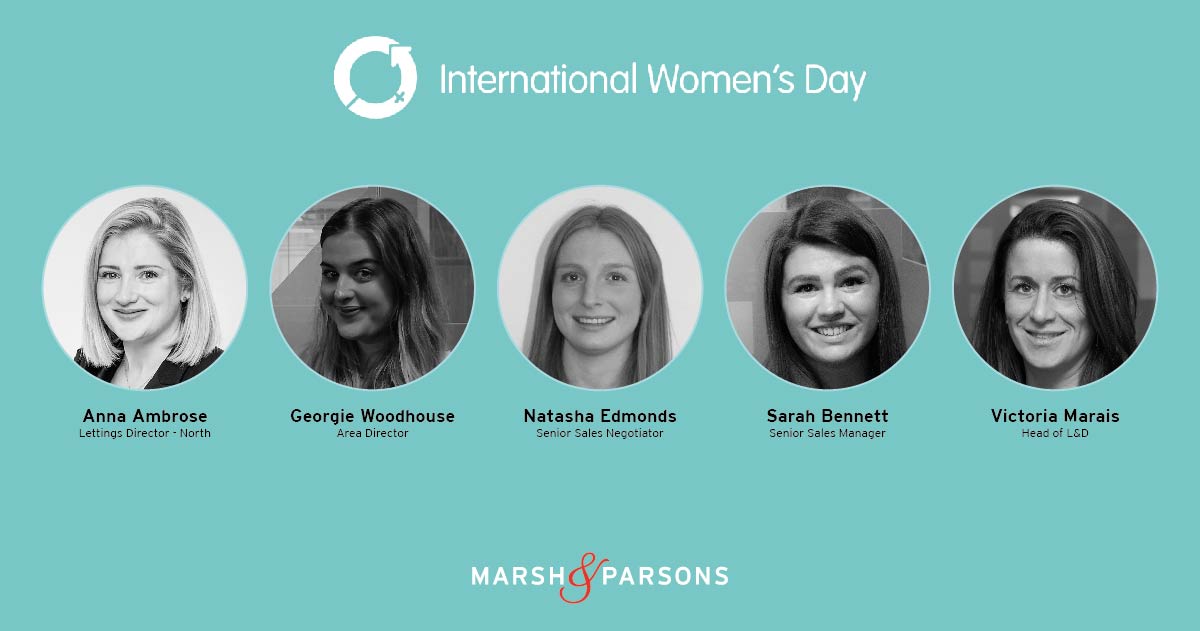 To celebrate International Women's Day, Marsh & Parsons employees were invited to join the M&P Round Table, a virtual panel event in which amazing and inspiring women from across the business reflected on and shared their experiences.
Topics such as managing work and parenthood, working as a woman in a traditionally male-dominated industry, the rituals that set us up for success and what men can do to achieve equality were covered.
We were delighted to be able to honour this day by supporting the incredible efforts of The Prince's Trust and their 2021 #ChangeAGirlsLife campaign, and will be making a donation of £5 on behalf of every employee that attended the event. In the meantime, here are a selection of takeaways and insights from the discussion.
On what International Women's Day means to you:
"To me, International Women's Day is a time to reflect on your personal contribution and the role you have to play in achieving equality, whether that is professional, social or economic." – Georgie
"Seeing how far we've come and how far we've got to go, as well as appreciating the women we have around us." – Victoria
On the women that surround us:
"I was oblivious to being a woman because my mum made sure I had exactly the same opportunities as my brother. I was surrounded by male influences but we all got involved with everything- gender never came into it."- Georgie
"My mum is my inspiration too- she was told that she wasn't ambitious because she wanted to be a teacher, but she worked her way up to become a headteacher and then mentored others in the same position. She has been really successful and has had loads of people look up to her, which has made me really driven." – Sarah
On the rituals that contribute to success:
"My commute is now a lot longer than most, so I use that 45 to 90 minutes to crank the radio up and sing at the top of my voice! The deep breathing energises me and I take the time to park whatever it is I need to at home and commit to the day ahead." – Anna
"Over the last 6-8 months I've started finishing my shower with a couple of minutes standing under freezing water. It's horrible at first, but it gets the endorphins going and resets your mind- you feel the benefits an hour later."- Georgie
"Sometimes you have to fake a positive attitude if you're not naturally feeling it. I try to have a positive interaction with everyone I deal with. Getting the mindset right and choosing your mood helps you to get the best out of every day." – Victoria
On what you'd tell your younger self:
"Stop comparing yourself to others and appreciate your own strengths. My biggest strength is speaking to people, and that's what led me to this job. Isolating any self-doubt and focussing on what you like to do is so important." – Tash
"Don't be afraid of people underestimating you- rise up to that challenge, fight for what you know you deserve and what you're good at. It's difficult to have the confidence to do that in your early twenties but the sooner the better." – Sarah
On what makes a woman successful in the property industry:
"Being able to listen right from the beginning of every process. Getting your timing right, knowing when to speak up and when to hold back and let clients speak is extremely helpful in this business." -Tash
"Women are emotional. We understand that buying or selling is a life deal, not a business transaction. As managers, we can be almost maternal and recognise that everybody is different." – Sarah
On what advice you've give to a woman in a traditionally male-dominated environment:
"It's easy to fall into the trap of thinking that you won't achieve as good results, but set yourself a target and make sure you hold yourself accountable to that." – Anna
On what men can do to help achieve equality:
"Being more inclusive. I don't think it's intentional, but sometimes things that feel isolating are so subtle that men don't realise they're doing them. Sometimes it's the small things that are actually really important." – Sarah
"It's often the domestic pressures on females that mean that women can't be seen as equals at work. Taking responsibility for out-of-work life enables women to step up professionally." – Anna
"I want my sons to be brought up to realise that women can be as, if not more successful, than they are going to be. I feel like I have a responsibility to show them that I contribute as much as my husband does, and to teach them to be accepting of equality."- Victoria
On their biggest triumphs as women in this industry:
"For me, I never thought I would get to where I am now. There's so much more that I want to do, but being an Area Director is something that 10 years ago I thought that only men did. Being able to help other managers as well as negotiators is something I'm glad to do. I look at what Anna does and every day I think that's incredible." – Georgie
"I have had a few clients over the years who have refused to deal with me because I'm a woman. Rather than going to get a manager or a colleague I like to use my knowledge to build rapport and turn their opinion around. Changing their mind myself always feels so triumphant." – Tash
On what can be done to support women in returning to work:
"There needs to be a shift from returning to work- instead, flexibility needs to be given. Businesses need to look at the opportunities that they give to people that have children." – Georgie