For many of us, getting away to a vibrant holiday destination like Havana or Cape Town isn't going to be a possibility this summer. Inspired by our latest brand campaign ad, we've gathered together quick, creative ways to bring colour into your home instead. We've stayed away from dramatic changes like painting your walls or getting new key pieces of furniture, and instead are focussing on small, lower-effort alterations that revolve around enhancing the colour scheme and items that you already have.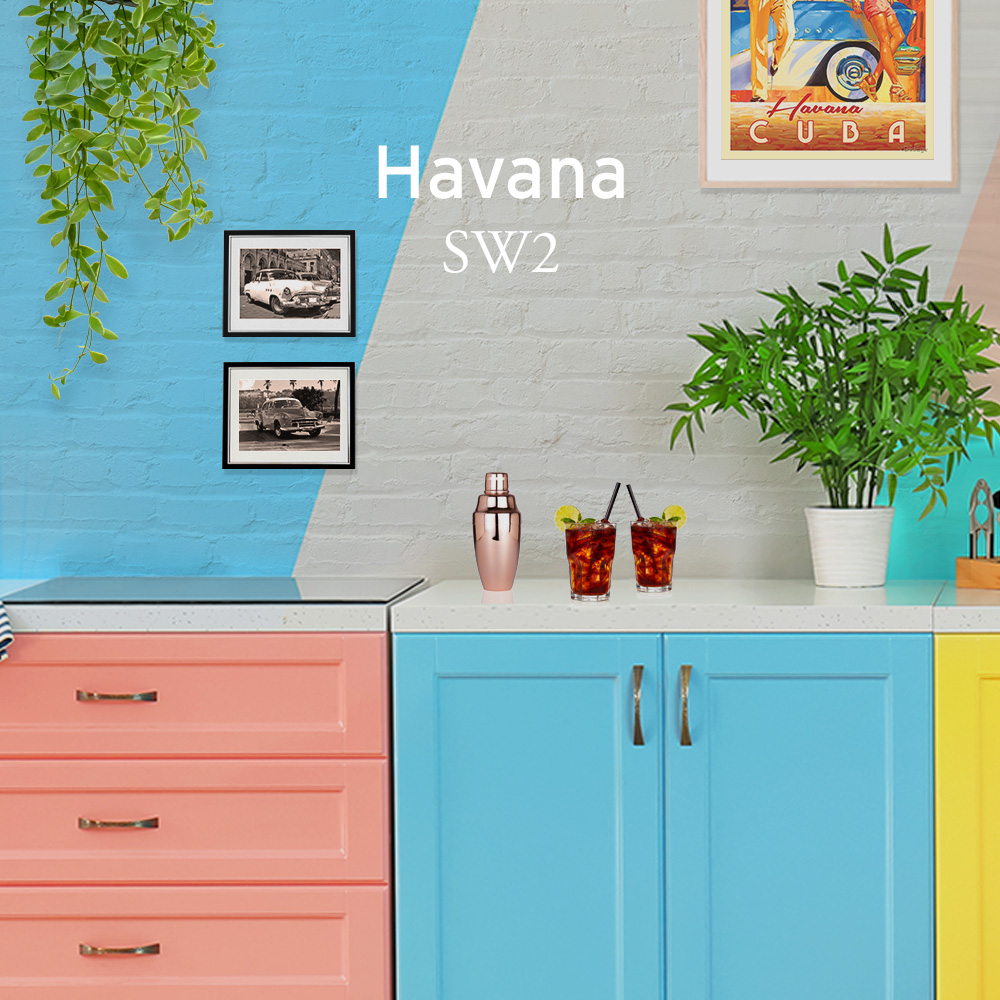 If you're not sure how to choose which colours to add into your home, first think about the mood it has or the mood you would like to achieve. Do you want to live in a calm and collected space or somewhere more energising and upbeat? If it's the former, broadly speaking you'll want to add colours that sit next those that you already have on the colour wheel. If it's the latter, look for colours that sit opposite each other on the wheel, or try clashing tones for a striking contemporary look. The beauty of most of these methods is that they're not permanent- a mistake or unexpectedly jarring combination can be easily rectified.
We also asked Geraldine Tan, the creator behind Little Big Bell, to create her own Havana-inspired interiors look. Find out what she came up with and how she achieved her look here on Monday.
Hallway
Buy
Let's start with the first room of your home- the hallway. Adding colour to this often-dark and sometimes-neglected space is a great way to lift the mood as soon as someone walks through your front door. If you're looking to use art to inject some vibrancy why not consider a gallery wall: this is a great hallway art idea for those that want to show their personality from the get-go. We asked Kelsey, the creator behind @homewithkelsey to create her own gallery wall; check out her blog post coming soon. She's got plenty of tips and tricks to create one that's totally yours- even if you're a renter!
Buying a hallway runner is a great way to freshen things up and tie your hallway's colour scheme together. We love this pale pink option from Made, which would complement calm cool-toned entrances beautifully. Soho home has a chic wool runner in green, mustard or red, perfect for adding a little warmth, or check out Habitat for something a little more affordable: we love this runner set or this mustard option if pattern's not your thing.
DIY
Fancy rolling up your sleeves and getting stuck into a bit of DIY? It's time to take a look at your stair riser (the vertical part of your stairs). Adding a bit of colour to this rarely considered part of the home can have a surprising effect on the overall mood of your hallway or landing, adding a playful, inviting touch. For those with interior tastes that hit every part of the colour wheel, check out FLFK's rainbow stair riser sticker. Those after something more subtle should take a look at this classic blue patterned option from Ten Stickers, or this Spanish stair sticker set for a Mediterranean vibe.
If you want to get your paintbrush out, paint the same area yourself in a colour that complements the scheme of your walls and flooring. Alternatively, painting the bannisters can make your hallway really pop- check out @somethingbluehome on Instagram for a masterful lesson in how to approach this.
Living room
Buy
One of the main focus points of your living room is likely to be your sofa, so let's start here. No need to re-upholster your favourite piece in a rainbow-striped fabric- cushions will have a similar, lower maintenance effect. Eva Sonaike's luxury African products include cushions in sophisticated colours and patterns, while Sophie Home's cotton cushions come in bright abstract designs (we think that these would look great mixed and matched). Poppy and Honesty make beautiful liberty print cushions or round velvet versions for a sumptuous living room, or splurge on a classic 1970 cushion in red or navy from fashion favourite Bella Freud.
Statement lighting looks best in a living room, as bold shapes and bright colours won't overwhelm what's often the largest space in the home. This HouseOf cage ceiling light comes in multiple colourways, or we like this fun tassled lampshade from Anthropologie which comes in terracotta orange, pale cold or turquoise. For side lights Rebecca J Mills makes lampshades with quirky patterns and sophisticated colourways, or Soho Homes Samarkand lampshades in warm earthy tones or bright citrine and plum would make an eye-catching addition.
DIY
If you're in the mood for some DIY, painting your bookshelves- either the walls behind them or the shelves themselves- is a nice way to add a bit of interest and can be a great place for a complementary pop of colour. The same can be done for your sideboards- this Ikea number would be the perfect base for a bold painted hue.
Kitchen
Buy
Purchasing bright appliances in a colour that contrasts nicely with your splashback area can look great. We like this bright red industrial kettle, or go for a classic retro Smeg kettle which comes in a rainbow of pastels. If you're a microwave meals type of person (no judgement), this black and rose gold model from Currys would stand out nicely if you have gold hardware elsewhere in the kitchen, or match your Smeg kettle with this vintage-look pale blue microwave.
Forget the random tea towels that accumulate in any kitchen- a considered set can really elevate your colour scheme. H&M home have lots of neutral earthy-toned options, or go bright with this orange one from The Conran Shop. Updating your crockery can have the same effect. Emma Lacey's rainbow set is customisable: all colours are of the same tone and go beautifully together. For something brighter, consider this John Lewis rainbow dinner set. Habitat's emerald green set of side plates would make a lovely addition to more neutral grey or darker coloured dinner plates.
DIY
Your splashback is a great place to add a splash (sorry) of colour- doing so is unusual and can really bring out the scheme of your main kitchen. Wayfair has an excellent selection of stick-on tiles so you can update this with ease: try red for a modern kitchen, this subtle design to bring out grey, blue or bronze, or pink for a retro look.
Want to add a sense of fun to your kitchen? Try painting the inside of draws or the inside of a cupboard door a different colour for a boost every time they're opened- plus, if it goes wrong it'll be your secret! Equally any open shelving or plate racks will look wonderful painted in a colour to match or contrast with your current scheme.
Bedroom
Buy
Changing up your bed headboard (if your model allows) is a great way to make sure your colour scheme is the focal point of your bedroom. We like this pale pink option from Dreams, or think this dark red option would fit nicely into a room with warm colouring. For jewel tones, take a look at John Lewis- in particular, this lovely sea green or bold mustard yellow option. The right vintage room divider can also look great behind a bed- have a hunt through eBay or Etsy for a totally unique piece.
Next up, consider your bed linen. White may be traditional but may look a little plain in a room with neutral walls and a floor. Loaf's lazy linen comes in multiple soothing pastel colours, or Habitat have a lively selection of brights for the brave. For a soothing room, you can't go wrong with H&M home- it's bed linen is known to be excellent quality at an unbeatable price.
Moving away from the bed, changing up your blinds or curtains is another low-effort, striking way to match or contrast with the rest of your colour scheme. This beautiful patterned blind set in pinks and blues has a tropical vibe that's sure to bring back memories of a summer holiday, or for something sweeter we like this sherbet yellow option from Dunelm. 247 Blinds have- you guessed it- blackout blinds in every colour you could possibly imagine, or go luxurious with silk or faux silk curtains in a range of hues from Curtains2Go.
DIY
Painting your mirror frame is a fun, inexpensive way to lift your bedroom and put a smile on your face every time you get ready. We recommend the Ikornnes model from Ikea, which will make a great base for colourful paint. If you're a renter, it will look just as good propped up as hung up- easy!
After more inspiration? Take a look here and @marshandparsons on social on Monday for Geraldine's own take on creating a colourful home look, and check out the Marsh & Parsons blog for more tips on making the most of a summer at home.