One of the best things about going on holiday is seeing new art, whether it's a planned visit to a world-famous gallery or stumbling across some street art unexpectedly. Unfortunately, it's a thrill that might not happen for us this year, so, inspired by our latest brand campaign ad, we've put together some tips for making the most of art- old and new- in the home.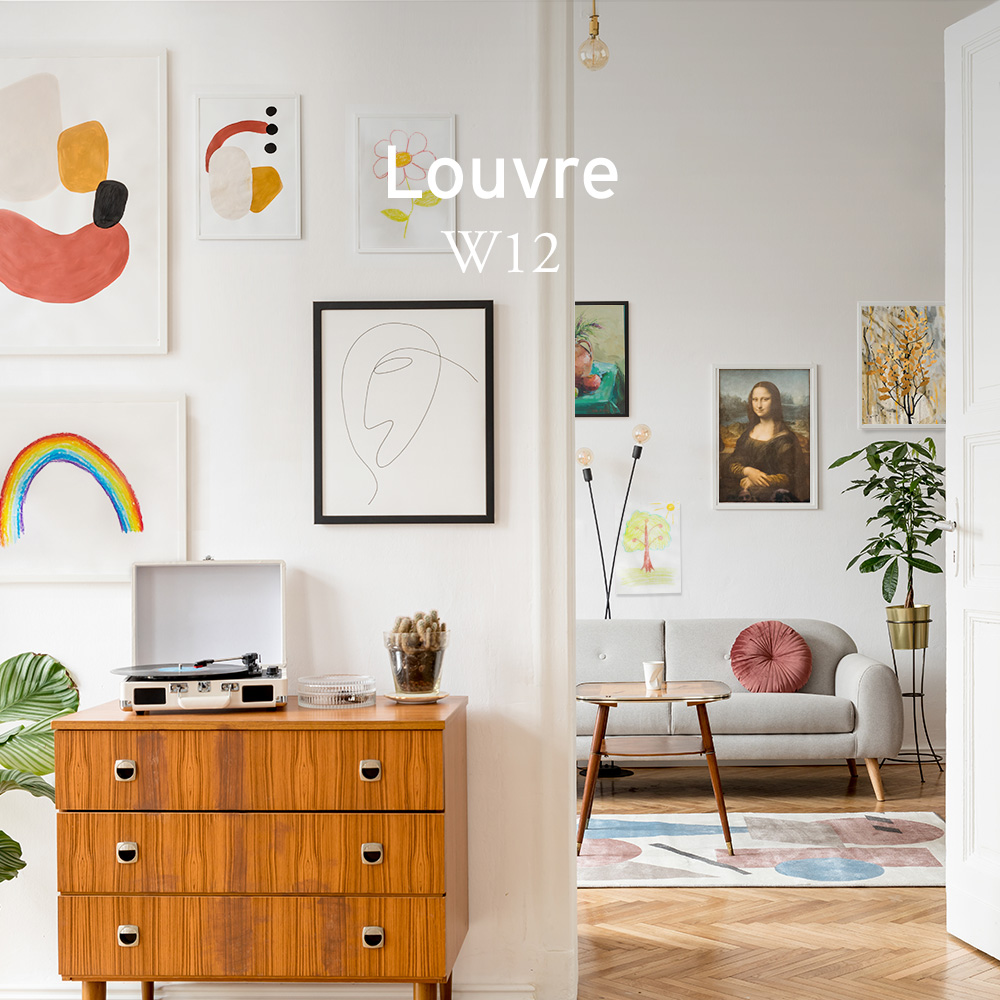 Curate a gallery wall
If you're looking for some hallway art ideas, want to add some interest to your stairway, or need a focal point for your living room or bedroom, a gallery wall is a great way to add character and personality into your home. To start with, collect your favourite pieces and see if a common theme between some of them jumps out- maybe this will be colour or style.
If think you need a new piece to tie it all together, we have some hallway wall art ideas for you. East End prints has a shop in Shoreditch and a great comprehensive online store. Nelly Duff, also based in east London on Columbia Road has a brilliant selection of contemporary art and free delivery. We also like Hackney Dave's neighbourhood-based art prints. Including personal pieces like your children's art or family photos can add a lovely personal element. Frames can add an eclectic feel or a cohesive touch depending on what you're after: we like Soho Frames for bespoke framing as they have a collection and delivery service.
We asked London-based interiors blogger Kelsey from @homewithkelsey to create her own gallery wall inspired by the campaign: come back here on Friday to see her design and her hints and tips for creating your own personalised gallery wall.
Show off your children's art
Been using the extra time at home to get creative with your kids? We've got some great recommendations for displaying the fruits of their (and your) labour without it taking over your home. To stop it feeling too random, grouping different subjects (for example people, or animals) and displaying them together will keep it feeling cohesive. A smart group of frames, like this set from John Lewis, will do the same trick. We also love this clever frame which comes with plenty of storage space at the back: no need to choose which artwork to keep anymore!
If you want to keep it flexible this stylish corkboard from Not on the High Street is a nice option that will allow you to swap work in and out, or this photo display wall hanging from Flamingo Gifts would fit perfectly into any neutral or minimal home. These magnets from Heals are a chic option if you want to keep your kids' art in the traditional place- on the fridge.
Sort out your souvenirs
We might not be able to add to our souvenir collection this year, but now is a great time to organise what you do have. Figuring out where and how to display your souvenirs will turn them from clutter to cool mementos you're happy to have bought.  We love this striking large shelving unit from Made, which is sure to make any individual pieces shine- it's on sale too. For something smaller, this industrial round unit from The Range might do the trick, or this budget option from Ikea would look great with a lick of brightly coloured paint.
If you think a side table would work, this tripod table from John Lewis would let your souvenirs take centre stage, or try this low side table from Habitat. For anything really tiny (pebble collectors, we're looking at you), Soho Home has a chic hand-painted dish, or try this sweet trinket dish from Anthropologie- bonus points if your souvenir's from France.
If you've got any textiles which have yet to be put to use, we suggest hanging them up to make a piece of wall art no-one else will have. This simple wall hanger will do the trick, or take a look through Etsy for something with more pizzazz. If you have any maps from a special holiday, getting them framed is a nice memento- it will look stylish on its own or as part of a collage alongside photos and tickets.
How to hang
If you're happy giving hammers and nails a go, start off by marking off eye level. 155cm is usually considered standard for a standalone piece, although perhaps you want to hang it a bit lower or higher to make an impact? If you're putting together a gallery wall, make sure that the space between the frames is cohesive, even if the alignment is not. If you have an iPhone, use the level application to make sure it's hanging correctly. Also make sure to think of any potential risks to your work- your most treasured piece may get heat damage from being above a fireplace, or perhaps it shouldn't be too close to a sun-trapping window. Putting art up yourself not for you, or perhaps you're a renter? Propping up art can look just as striking- whether that's on the floor or on a shelf- and no nails required.
After more inspiration? Take a look here on Friday for Kelsey's own take on creating a perfect gallery wall, and check out the Marsh & Parsons blog for more tips on making the most of a summer at home.